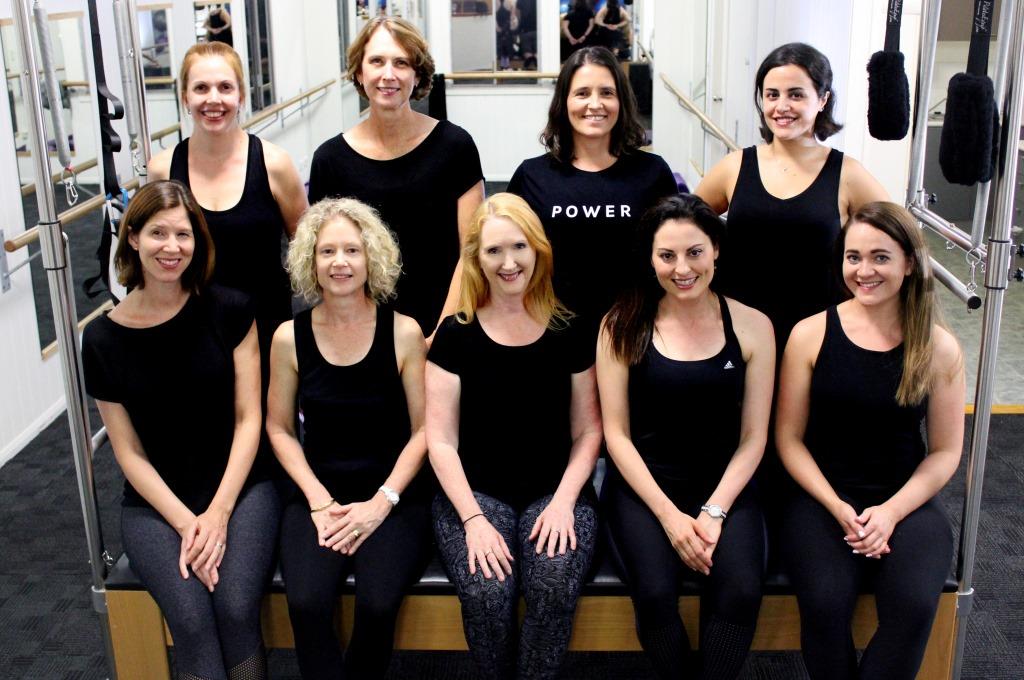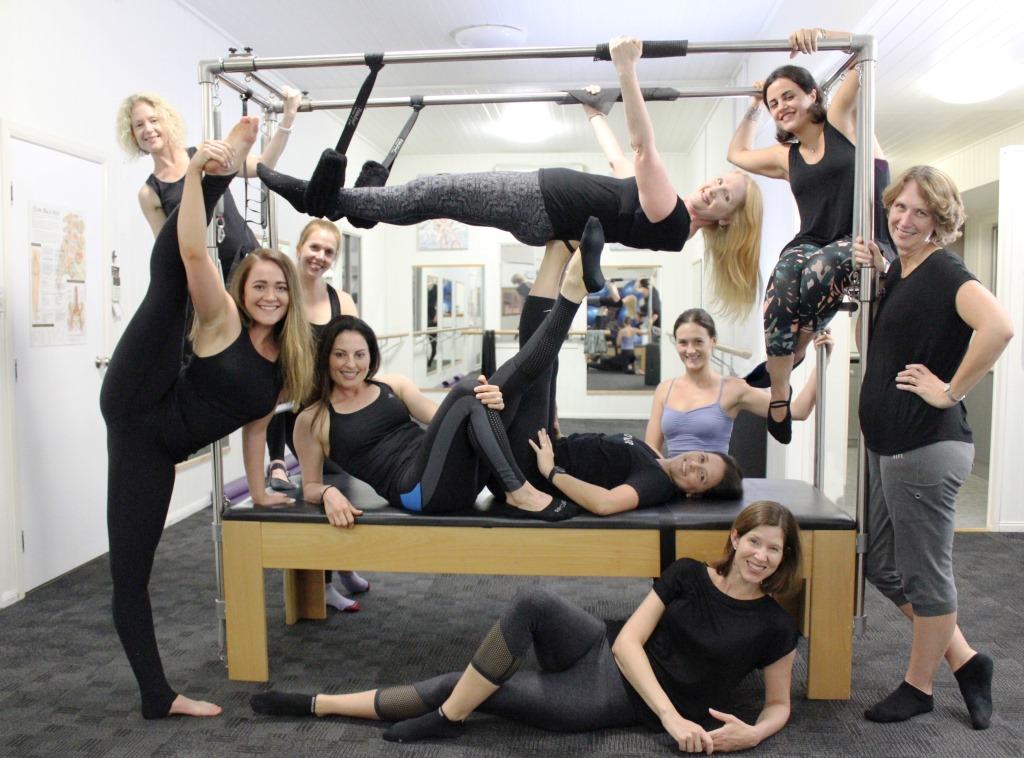 Sharon Porter
Director, Certified Pilates Instructor
Sharon dis­cov­ered Pilates about 20 years ago and imme­di­ately fell in love with this amaz­ing prac­tice and the health and well being ben­e­fits it pro­vides.
Sharon has completed com­pre­hen­sive study and train­ing in Pilates through Polestar Pilates and has com­pleted courses and cer­ti­fi­ca­tion in mat­ work and stu­dio pilates. She holds a Diploma Of Pro­fes­sional Pilates and is a Full Mem­ber of the Pilates Alliance Aus­trala­sia – an organ­i­sa­tion that sup­ports the pro­fes­sional stan­dards and integrity of the pilates industry. From a teach­ing back­ground, Sharon worked in sec­ondary arts edu­ca­tion for 26 years. She held the posi­tion of Head Of Depart­ment – Dance and Drama for most of that time.
Sharon is passionate in work­ing with artists in the Per­form­ing Arts indus­try to assist them in their work through a tai­lored pilates fit­ness pro­gram. She enjoys work­ing with a range of per­form­ing artists includ­ing singers, actors, musi­cians and of course, dancers.
In recent years, Sharon has developed a passion for working with young people and introducing them to the benefits of pilates for growing bodies.
She is also an avid sports fan, who has taken a keen interest in assisting athletes and sports participants in improving their performance and preventing injuries.
Heather Streatfeild
Pilates Instructor
With a background in Exercise Physiology and recently completing her Pilates Mat certification, Heather combines her knowledge to focus on functional strength, flexibility and mobility.
A back injury first brought her into the world of Pilates several years ago and she immediately embraced all the functional healing that Pilates had to offer. Since then, Heather has worked with all age groups, especially mid-older populations, helping them improve their activities of daily living and all the amazing benefits Pilates has to offer.
When not teaching Pilates, Heather is a busy mum of two and loves the beach and making all her own natural products for skincare and around the home.
Anne Williams
Pilates Instructor
Anne has been teaching at Body Revolution for three years and has a diploma in Pilates Studio and Mat with Polestar. She draws on her history and passion for classical ballet in her classes.
She began pilates in 2003 looking for a solution for chronic lower back pain. Anne was so amazed by the new connection she felt her muscles and increased body awareness that she felt the pain relief she experienced when practicing Pilates was almost secondary.
As a teacher, Anne loves sharing her knowledge and working with others to move more every day, keep mobile and enjoy a sustained healthy and happy life. She is currently studying to become a postpartum corrective exercise specialist, after she was inspired to help women before and after giving birth when she was pregnant. Anne's baby boy was born in November 2017.
Anouk Condie
Pilates Instructor
Anouk started with Body Revolution in 2016 and has completed her Polestar certificate 4 in Mat Instrution. Currently Anouk is taking mat classes on Monday and Thursday nights, as well as some Saturday morning classes. In 2019, she will also be taking some studio sessions.
Anouk was drawn to Pilates in an effort to strengthen her back and to learn more about anatomy. As an instructor she enjoys Pilates as a method for keeping her body strong and helping others realise the joy of intelligent movement. She loves the the strong, energised and happy feeling that she gets after an hour on the mat. Anouk also enjoys taking classes for Mums and Bubs. She believes it is so important for women to reclaim their bodies and become strong again.
Anouk loves bush walking and multi-day hikes in the mountains. She has hiked in Nepal, France, North and South America, Turkey, the United Kingdom, Africa, New Zealand and Australia. She says her Pilates passion is the perfect way to keep in condition for her love of the outdoors.
Cristiane Souza
Pilates Instructor
Cristiane has always had a passion for movement, sports and being healthy.
She studied to obtain a Bachelor of Physiotherapy in Brazil and has a Certificate IV matwork pilates and a Diploma of Polestar Pilates Studio and Rehabilitation Method.
Cristiane says she loves teaching pilates as she can see people bodies changing, getting stronger and pain free. She says it boosts her clients' self-confidence through the roof.
The two things Cristiane loves to hear is: "Wow, now I can do this exercise!" and "I feel so good now and I even don't have any back pain anymore!"
Cristiane is married and has two gorgeous girls. She loves the outdoors; camping, trekking, mountain biking, stand up paddle boarding, skiing and snowboarding (which she is still learning).
Luisa Yallamas
Pilates Instructor
Luisa started doing Pilates with Sharon Porter in 2012. She discovered Pilates was the only method of exercise that helped relieve her neck and back pain and was so impressed with the amazing results, she decided to study Pilates. She joined Body Revolution as a Pilates Instructor in February 2017.
Luisa has completed her Certificate in Matwork Pilates, Diploma of Professional Pilates Instruction and Buff Bones® Instructor Training through Pilates International Training Centre. Buff Bones® is a US medically endorsed system of movement for bone and joint health.
She is also a Level 1 Member of the Pilates Alliance of Australasia. Luisa is also a qualified Personal Trainer holding a Certificate 3 and 4 in Fitness and has previously worked in gyms and fitness centres as a Personal Trainer and Group Fitness Instructor. Luisa continues to incorporate weight training at the gym into her personal exercise repertoire.
From personal experience, Luisa has a special interest in working with people who are suffering or have previously suffered from breast cancer to help them regain confidence and better movement during the recovery process. Luisa would like to do further study and specialise in this area.
Kathryn Logan
Pilates for Kathryn is a family affair. As Sharon's sister, the timing was right in 2012 to come on board and help with the administrative set up of the studio. She has continued on in this role in a part-time capacity. Kathryn's background is in Human Resources and Recruitment.
Kathryn loves sport and fitness and has always loved the gym. She started doing Pilates in 2012 and has become more body aware and loves the flexibility and strength she has gained from doing both.
Her husband and 14-year-old son are now both Pilates converts. Kathryn's focus for 2018 is on family, health and well being and taking that leap into Pilates instructor training.
Lilly Stojan
Pilates Instructor
Liljana (Lilly) first discovered her love of Pilates while studying full-time ballet with the Queensland Conservatoire of Ballet and then New Zealand School of Dance. Once she experienced how beneficial Pilates was for her overall health and wellbeing she decided to combine her love of dance teaching with Pilates instructing.
She completed her Pilates qualifications with Polestar Pilates and holds a Diploma of Professional Pilates. Lilly also teaches ballet, jazz and contemporary dance. She is currently studying to become a primary school teacher.
Michele Dorn
Pilates instructor
Ruani Dias-Jayasinha
Fandango Singing Instructor (BMusBA :Education)
Ruani has been a professional actor, singer and teacher for more than 20 years. Since graduating from UQ in 1993, she has continued to extend her range of styles to include classical, musical theatre and contemporary singing. While studying at the Actor's Centre Australia, she was introduced to the Linklater Voice Method (Freeing the Natural Voice), and in 2003 she was granted a travelling scholarship to continue her Linklater studies with Shakespeare and Company in USA. Her Linklater studies not only profoundly influenced the way she performed, but also influenced her approach to teaching both the speaking and singing voice. Since her return to Australia, she has performed in numerous theatre productions in Sydney, and has continued to develop her own unique approach to voice teaching in Sydney and Brisbane. She is currently the Choir Director and Voice Teacher at Mt St Michael's College, Ashgrove and has private voice students at Body Revolution. Her interest in psychosomatic therapy has supported her passion in finding holistic ways to connect the body/mind to support her students to grow personally through singing freely.
Donna Guscott
Donna has been a client at Body Revolution for over seven years and is now part of the "behind-the-scenes" team, working on the newsletters, helping with the website and anything admin or IT based. She has been doing her regular mat class since starting and has sung the praises of Pilates for helping her to be pain free with her lower back problems.
Donna's background is in administration and IT. In her early career, she worked in Office Management, then changed careers and worked in IT for several years before taking time off to raise her 3 children. In her spare time, she is a taxi driver for her children, and enjoys spending time with family and friends, good food (prepared by someone else), and would like to spend more time being creative – painting, drawing, sewing, jewellery making, she'll give anything crafty a go!